What's So Boston about it Anyways?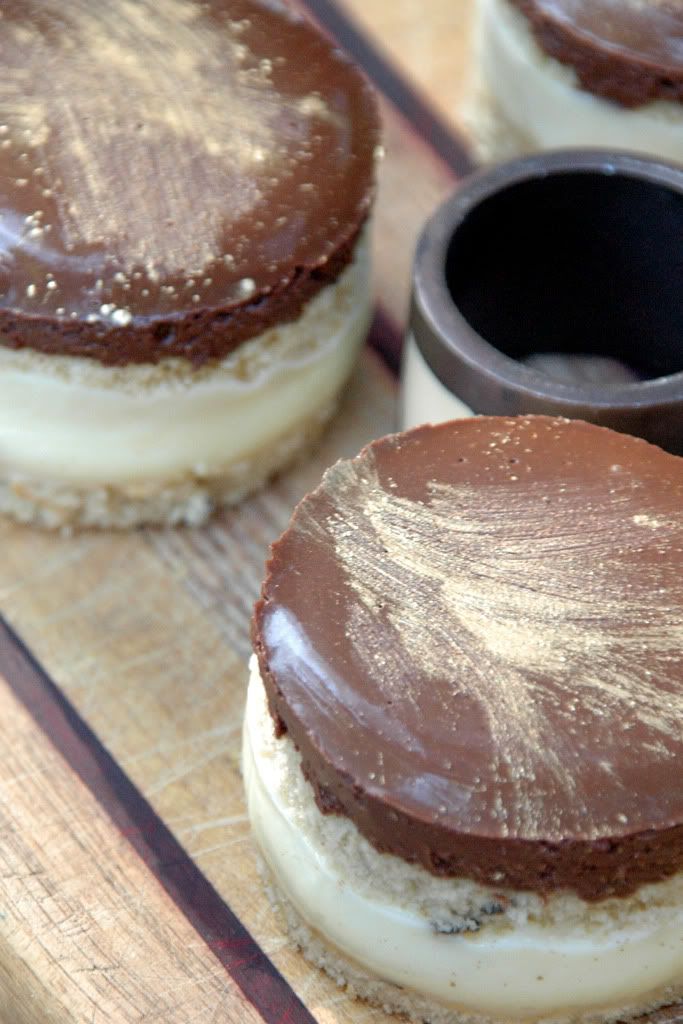 Confession: I have never, ever, consumed or created a Boston Cream Pie--though i have always been a fan of the yoplait of the same name. But until today, i didn't even know what the trifled layers consisted of. So since confessions are being made; i will admit one more: i've never actually been to Boston either, Holyoke and Amherst are as close as i've gotten. But guess what; though i don't give a damn about baseball, i own a redsox cap and curse the yankees. And Boondock Saints--that's a quality film. So though i've never been, Boston definately deserves some love. And who cares if a Boston Cream Pie is merely a dumpy yellow cake mid-layered with a basic vanilla cream custard, and topped with chocolate sauce; everybody's gotta start with something. So let's make it a little more stereotypically Boston, if you know what i mean. With tea and liquor. Now that's what i'm talkin about.
The Boston Cream Pie carries the name for the sole reason that it was first created in a hotel kitchen in Boston, and according to Wikipedia that hotel was the Parker House Hotel (Bobby Flay was just going on about some biscuit rolls of the same name....i'm haunted) by a French pastry chef named Sanzian (apparently sans prenom). After learning that the pie was merely layers of yellow sponge cake, vanilla custard, and chocolate--i was somewhat dissapointed. Custard and a cake? Hmm, well, not much of a challenge there (sorry Sanzian). But the Salty Cod won't settle for basic bakery mediocrity, no. No, we insist on mucking around with classics that have held their own against the test of time--until now.
Thanks to Christy, Aussie pastry chef of 5 Types of Sugar, we have a couple of boxes of high quality black tea leaves--untaxed no less. To incorporate the leaves into the yellow cake, the milk and butter used were steaped in the leaves, that were also crushed into powder and incorporated in. Thus, we give you a tea-sponge. Boston and tea, can't get more cliche than that. Oh wait--yes we can. The vanilla custard is a little bland; Irish cream liquer mixed in? yes please.
Boston Cake:
ingredients: 1 cup flour ~ 2 eggs ~ .5 cup sugar ~ 3 tbsp butter ~ .25 cup milk ~ 1 tsp baking powder ~ pinch of salt ~ 1tsp vanilla ~ lose leaf tea
method: 1) sift flour and baking powder together 2) boil butter and milk in a small sauce pan, add tea leaves and steap 3) beat sugar and eggs in mixer, add flour and milk mixture. pour into lined baking sheet (this is a flat cake, you cut circles out of it) bake at 325 for 10~15 minutes. cool, and cut circles.
Cream: Martha Stewarts vanilla
custard cream
+ 2 tbsp Irish Cream.
Chocolate: boil heavy cream and poor over dark chocolate.
Assemble: using pastry rings (or aluminum foil and duct tape) layer cake, cream, cake, and top with chocolate. freeze until set, and then paint top with gold dust.
We do intend to go to Boston some day--someday. I've visited my sister who studies at Mt. Holyoke, but, as anyone will testify--Holyoke is no Boston. But it's nice for, well, for studying, and breaking into churches after hours--but that's another story. A Boston Cream Pie has nothing to do with Boston; but it has everything to do with a Salty Cod afternoon of baking to get through....well, life. Boston Cream Cakes to pass the time away instead of looking out the window in a dream; busy yourself to make the missing of another lessen. Damn i need a job already...but i believe this Boston Cream shenanigans desserves further investigation: my editor and i will have to take take a business trip there someday soon--and get back to you on our findings.
In the words of Holy Golightly and Fred-Baby:
The British are coming the British are coming! But in this case, the Brazilians. -exactly. oh how things come together.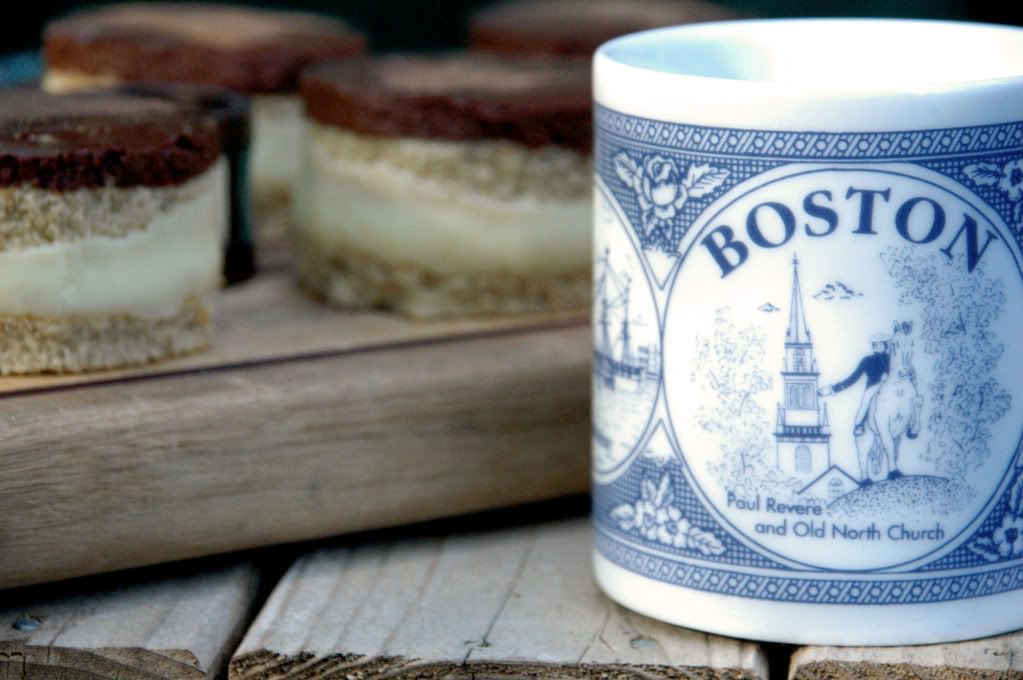 And a word to our dear friend and Associate S--we at the Salty Cod want to tell you today, tomorrow, and the next day:
cool story Hansel
. so don' worry, be happy. i'll buy you a caipirinha.
a bientot