My Virgin Lily Cake.
It's raining in Seattle on this September 7th. Autumn has now officially begun. It goes like this: because the rain falls from the sky ever so gently, the light steady stream remains on the leaves of the sponge trees until they become rain trees. Then, when the steady wind blows in off the west side of the Puget Sound, the leaves of these soggy trees will dance; continuing the rain even though it has passed. This is real rain in the Pacific Northwest. Ensuring a steady six or seven hours followed by the banana slug parade. But i don't mind the rain, not here. Here is where it should rain. No where else. But summer is over. I can hear the mourning bells ring. and i laugh. Happy September 7th.
Do you know what today is? The answer varies depending on who you are. In the US, today happens to be Labor Day, so wave the red, white and blue. In Brazil, today happens to be Independence Day, so wave the yellow, blue, and green. And today also happens to be September 7th, a special day for the staff here at the Salty Cod, a two year commemoration of our team, if you will. So September 7th is quite a cause for celebration, and a Salty Cod celebration implies cake. a real cake. a fondant cake. a lily cake. on y va.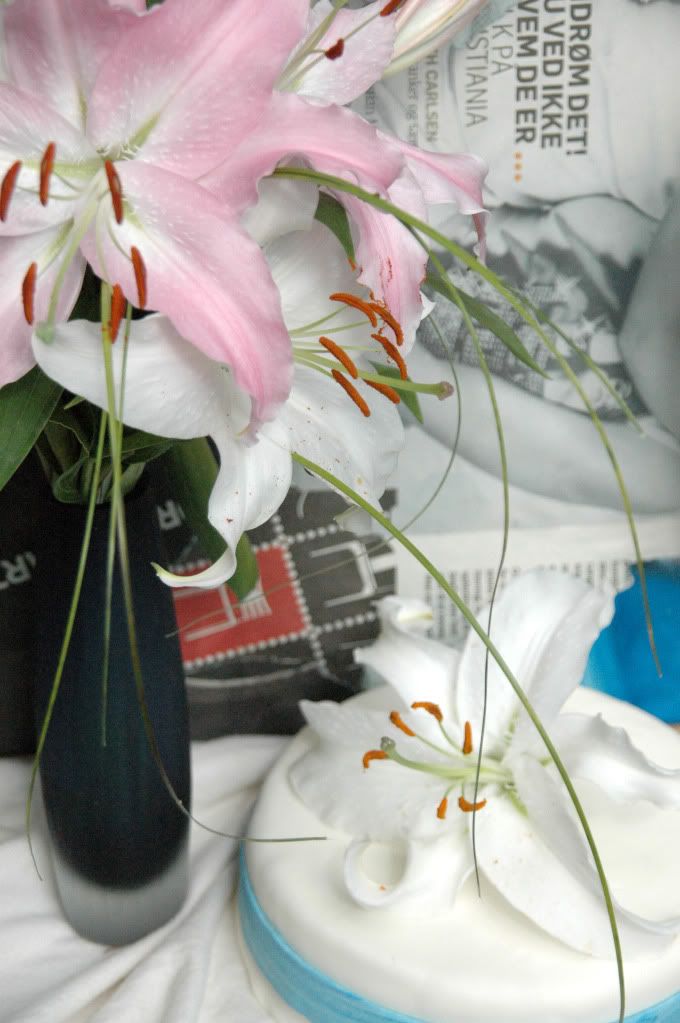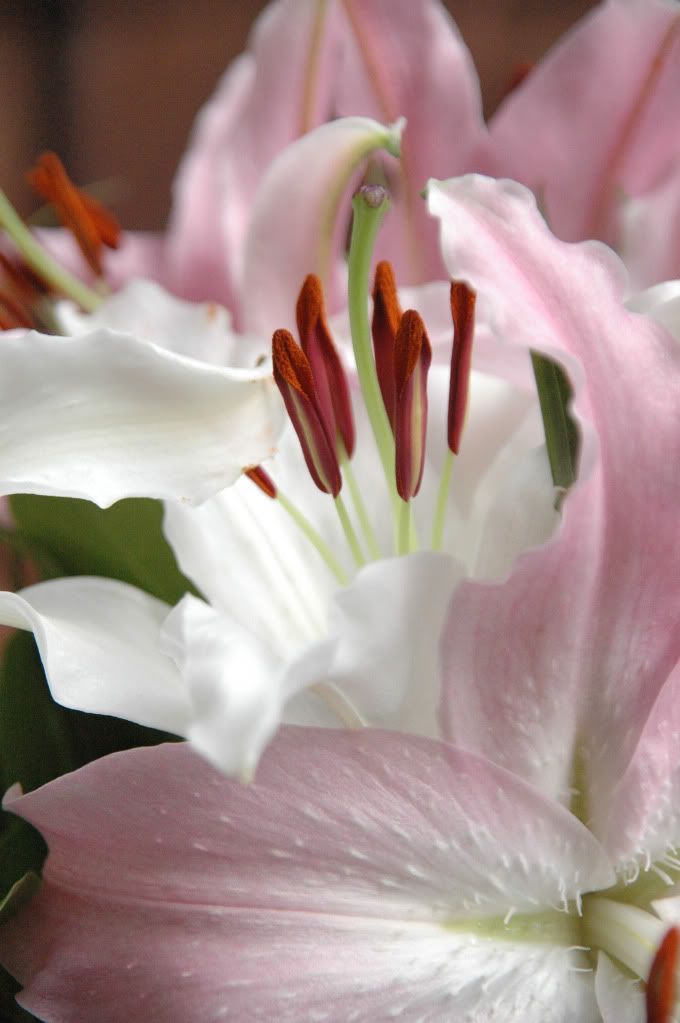 My virgin lily cake is indeed a virgin; this is my first fondant cake. Fondant cakes are typically associated as wedding cakes, but they don't have to be. any special occasion will do. How will i ever make your wedding cake if i do not practice first eh? I've long goggled after fondant cakes, putting them up on the "out of my league" shelf. I did the same thing with French macarons until i found myself making one hundred for a party. so. man invented fondant, man controlleth fondant, and Salty follows suit.
The one thing that has always scared me a bit about cake fondant is the taste, it savors highly of crap. Though i dearly love marshmallows, as the pink ones are my thing, the thought of putting marshmallow fondant in my stomach is not on my wish list. Therefore, after working some image freelance for my good friend, ex-neighbor, and professional caterer C, I asked with a pretty please for the secrets of her fondant recipe. Not only did i get the recipe, but i received a pot of inverted sugar and a hunk of her preferred white coating chocolate. Score one for the Salty Cod! Thank you C, couldn't have done it without you. It tastes like candy!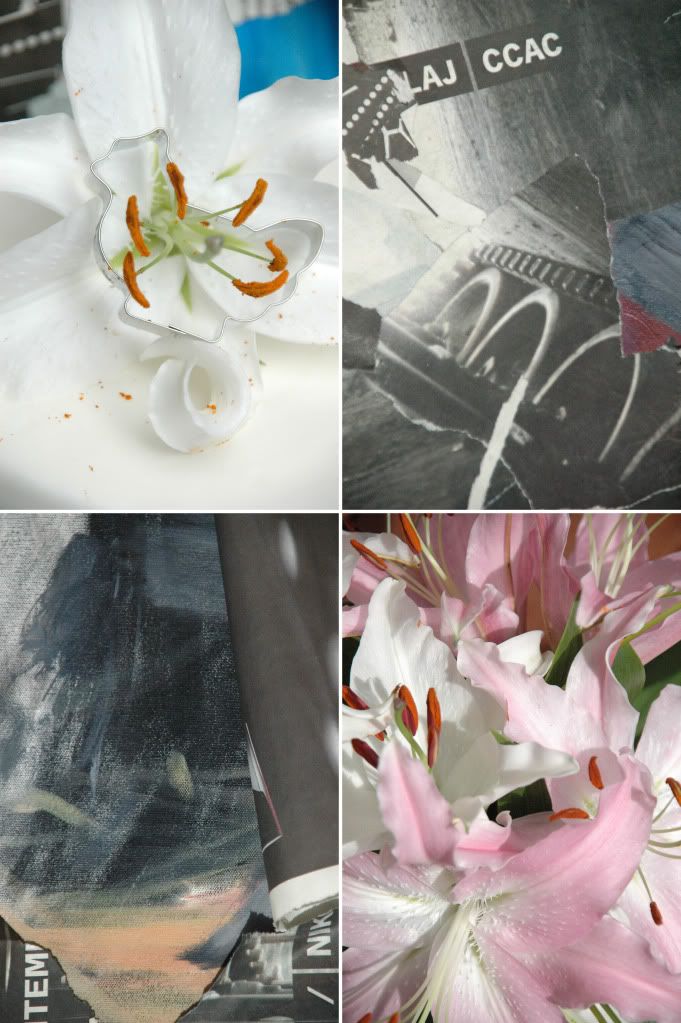 It really was not as difficult as I thought, though it is not as perfect as i would have liked it to be. A little lumpy in spots, and not as divinely symmetrical as it should be. But close enough for government work, and for our first attempt. What would you say if i told you it was gluten free? Ahk, i suppose would be the correct response. Well, as with most of the things i make for other(s) here, they can seldom be eaten by the intended recipient who is oftentimes in another state/country. Therefore if you can't eat it, i better at least be able to tell you what you missed. And this cake is half intended for me, as i am the paycheck writer at the Salty Cod.
The cake is an extremely dense dark chocolate cake, as are most gluten free cakes. Though with this particular cake, density was a bonus. The denser the cake, the smoother the fondant. The crumb coat used was a raspberry buttercream--when i say coat, i mean coat. Very thin, a crumb coat on a fondant cake should be only just enough to make the fondant stick to it. The fondant itself is a white chocolate fondant comprised of gelatin, white coating chocolate, inverted sugar, confectioners' sugar, and (gasp) i don't have white shortening, so i used butter. but somehow it worked. And, i melted the white chocolate in a double boiler. If only the women in the kitchen at that barbecue could see me now. As i am a fondant novice, i sufficed with one tier and a simple skype-blue ribbon around the parameter. simpler the better some say. and who wants a fuss of details and dobs when the real focus is on the white lily that was carried to me by three African swallows.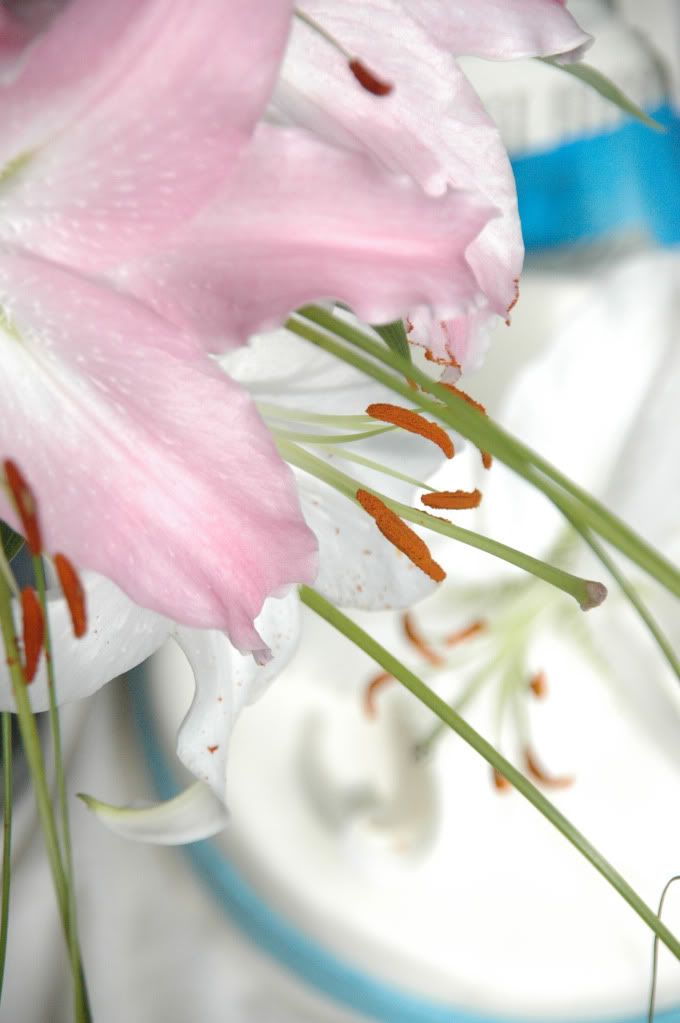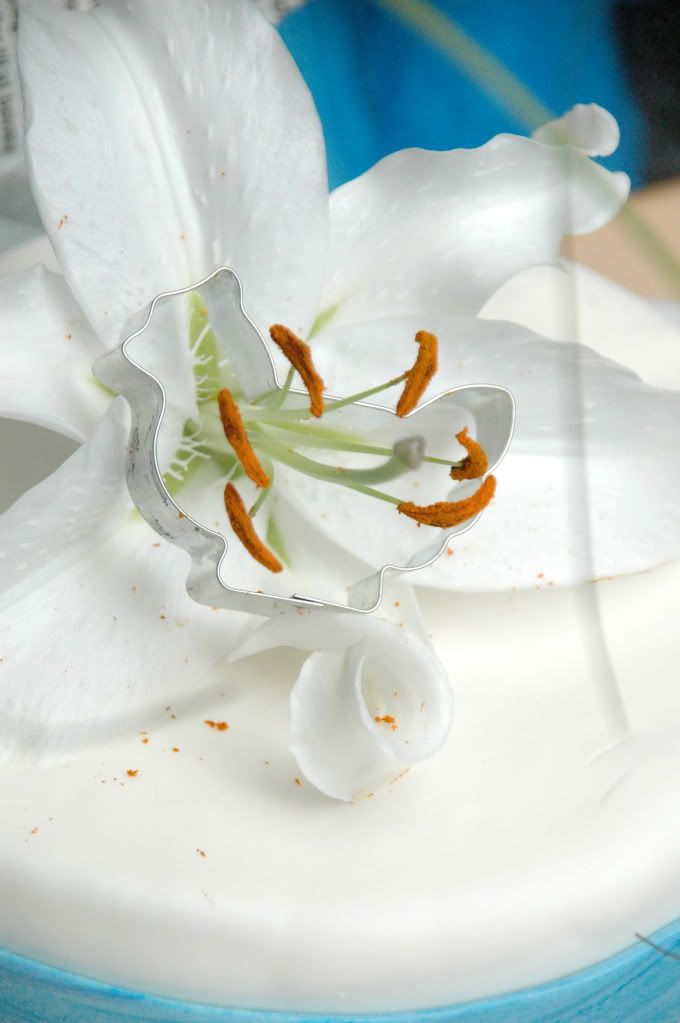 If you are an American, happy Labor Day. If you are a Brazilian, happy Independence Day. If you are a crew member here at the Salty Cod, thank you for contributing the Sweets. Salty is good, but without Sweets, we got nothing.

A rainy day, this September 7th. The moral of the story: when lilies bloom in a vase next to a blue ribboned cake, there are only four things to say: salut,
ca va
? i made you a cake. the flowers are lovey, te amo.
a bientot