glittering coconut, chocolate, & pear tartelettes
11 is a magical number, you won't be 11 again until you are 22, and then not again until you are 33, and so on. Yes you read right,
you won't be 11 again until
...a 22 year old is quite the 11. I remember my 11th birthday, that is, i think i do. I beleive there was a bicycle involved, or perhaps that was my 12th birthday...either way, my 11th birthday was a time shrouded in misery and despair, for at the time of my 11th birthday, about twelve years ago, there did not yet exist in this world the best party guest possible, what tragedy is this that i speak! Yes the first twelve years of my life should be forgotten, for they precede the coming of the most precious gem in my immediate family--the last little baby of my five siblings, and today is her birthday. And, as per usual, i am unable to be with someone i love on their birthday, so, as per usual, no ordinary birthday cake will suffice. Ergo, for a precious gem one must make coconut mousse tartelettes layered with chocolate ganache and a cinnamon pear compote topped off with stain glass candy and chocolate jewels. on ya va.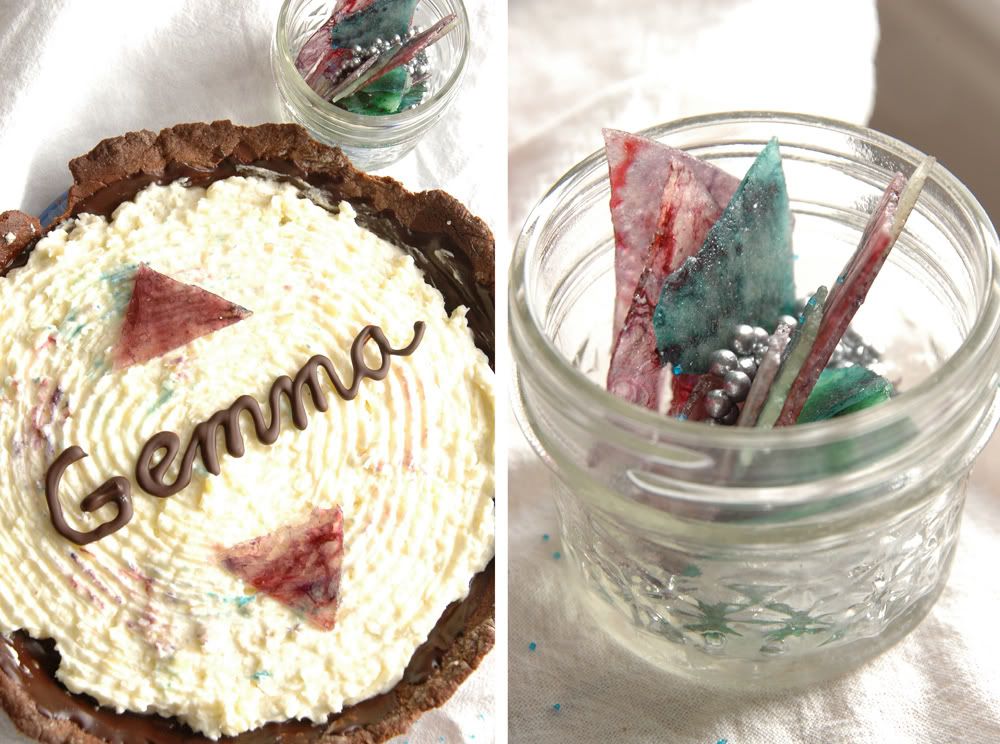 Big G is the baby of the family. Why big G? Because I swear she is nearing the same height as me and i'm 5'9" (175 cm)! Well all that height comes in handy when you are an uncommonly gifted soccer star. Who said bragging was reserved for moms. Little girl your other sisters and i were (are) your mini-moms; we did your diapers, we helped shovel squashed carrots into your drooly beak, clapped our hands and cheered at your first step, we bounced you ad nausium through hours upon hours of episodes of the colorful teletubbies and their giggling sun. I remember vividly the seven of us crowded around you at the hospital deciding whether you would be G or J, and when you decided to come home with us, you finished our little big family. But what's a fifth really mean when you've four already? I will tell you--a fifth means the world. Think how truly wonderful it is to have a sibling, and then multiply it by five. That is how much luckier i am than the rest of the world.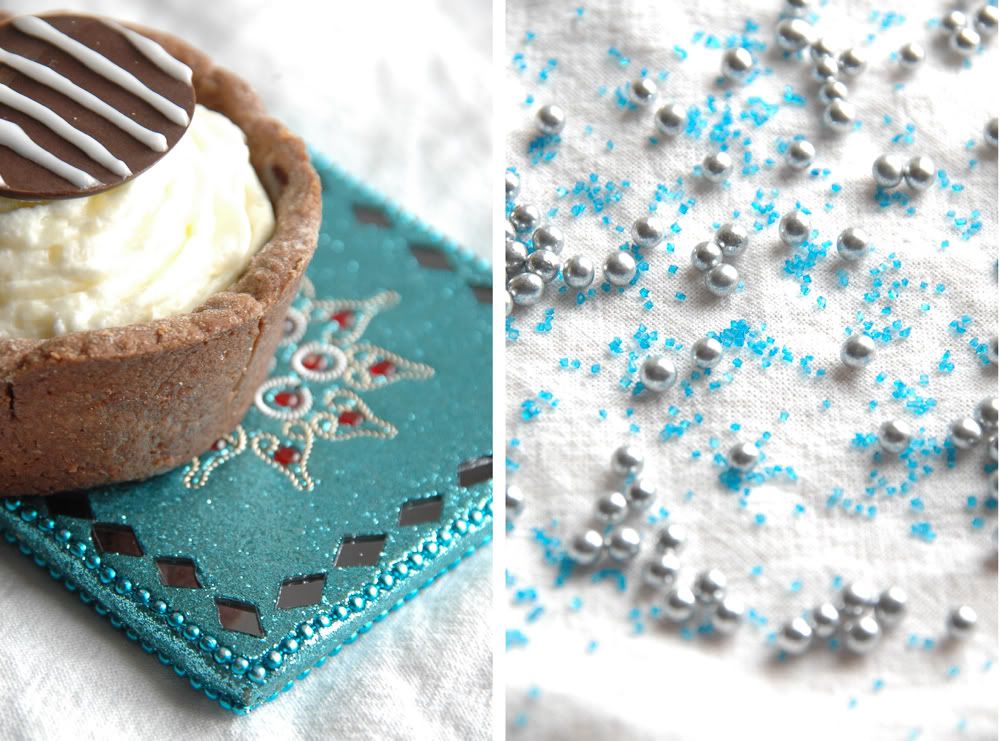 The dessert for G's big one one did not come as easily to mind as i usually brag the ability for, instead it took a weeks worth of scribbling until it finally just came into its own. Tartelettes are baby tartes, G is a baby sister. As her name is Gem, there is a que for decor; candy jewels of some sort. There will be chocolate, for i would never do anyone the disservice by omitting the edible allegory of delight. Now something that's a bit me to go in the mix--coconut mousse. And a fruit compote, but why pear? Why not pear. Pear deserves.
I have not made tartelettes since
August 2007
, oh la la, i made that? Quelle horreur. Either way, we are due. This recipe for the tartelette shells and base for the mousse is borrowed from Helen of Tartelette--yes the other Helen of Troy. Though i have no scales, tartelette molds, nor pastry weights, we were yet somehow able to create quite the dainty little tarts from muffin pans and a bag of pinto beans.
Le systeme D
, i have mastered quite well. Being in want also of a candy thermometer, candy, as usual, was a trifle difficult. Third time is the charm. Bake blind, or as we (yes we) photographers say; shoot a hail Mary--hold the camera up above your head, pray to the virgin, and hope for a miracle focus.
Chocolate Sable Shells: 1 stick butter ~ 0.25 cups sugar ~ 0.25 cups cocoa powder ~ 2 egg yolks ~ 1.5 cups flour ~2 tbsps cream ~ pinch of salt
method: using paddle attachment 1) cream butter, sugar, cocoa powder 2) add egg yolks one at a time 3) gradually add flour followed by cream one tblsp at a time--should be a very thick dough. 4) plastic wrap and refrigerate one hour 5) roll out flat, and cut out circles to fill the bottom and side of you mold (or muffin tin) no need to greese anything, pat tightly into mold with fingers 6) place cross strips of parchment paper and fill with pastry weights or beans, bake at 350 until they are done. cool completely.
Coconut Mousse: 1 cup heavy cream ~ 1 cup whole milk ~ .25 cup sugar ~ 1 egg, + 1 egg yolk ~ 2 tbsps corn starch ~ .333 cups dessicated coconut ~ 1 packet vanilla sugar ~ 1.5 tsps gelatin ~ 1 tbsp cold water
method: 1) mix gelatin and water in a small dish, let sit 2) in a bowl, whisk eggs, corn starch, and sugar 3) in a saucepan bring milk to a boil, slowly add it to the eggs, then return to pan and cook over medium until very thick, and add coconut 4) immediate add gelatin and stir vigorously until dissolved 5) cover with plastic wrap and let sit until room temp 6) whip cream and vanilla sugar, and fold into creamy stuff.
assemble: 1) make a chocolate ganache from dark chocolate and hot cream to coat the tart shells 2) layer with a fruit compote (here is used pears, cinnamon, and corn syrup) 3) using a pastry bag, pipe in the mousse. Garnish as you please (i made chocolate coins and stain glass candy)
A birthday tartelette, what could be better. How about actually eating it. I promise to make this for you G the next time we are together. I left you when you were seven, and what has always been on my mind is:
who remember anything from when they were seven
?
My sister won't have grown up with me like all the others (+ brother) so will she ever know who i am?
Well, i should never have worried, for i remember those seven years, and the Christmases, and summer holidays sprinkled in here and there--the moral is that you don't have to be near someone to be close to them.
Happy Birthday G! And to the rest of you--you'll be seeing her come 2016 playing for team USA.
ps. congrats brother on making the soccer team as a freshman!
(while i'm at it let's do the whole family ring shoutout) Kaitles you better be having fun with R at Holyoke for your holiday, don't break into any campus churches...not that i have...cough...and my one big sis M, come to Spokane for your spring holiday!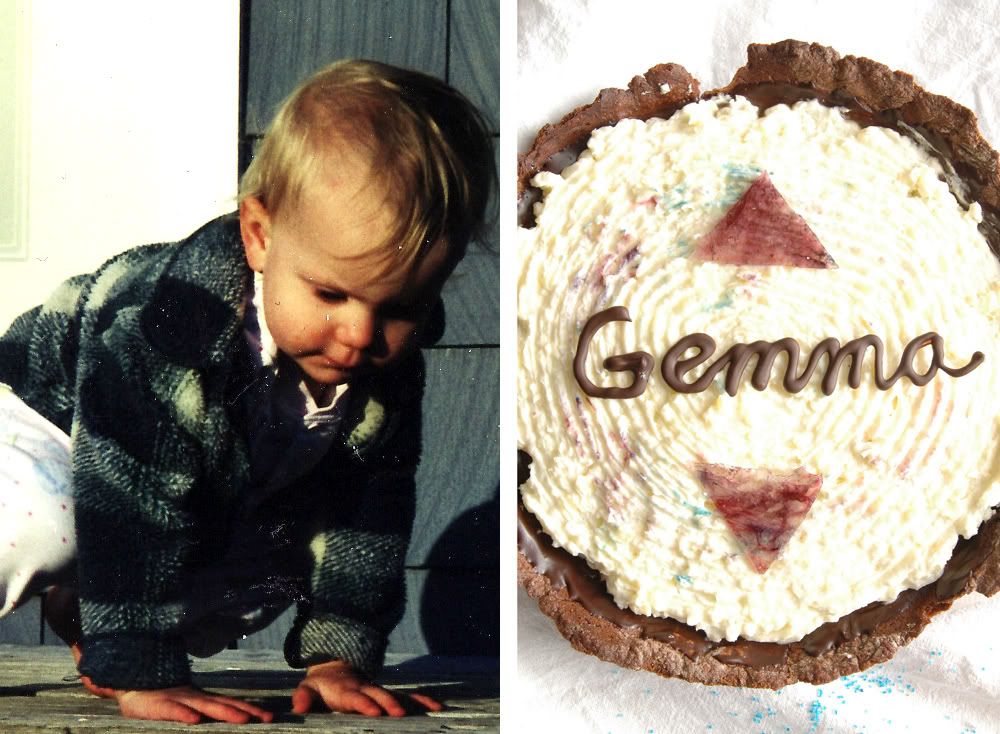 a bientot