Mocha Bagels with Kahlua Cream~ and a giveaway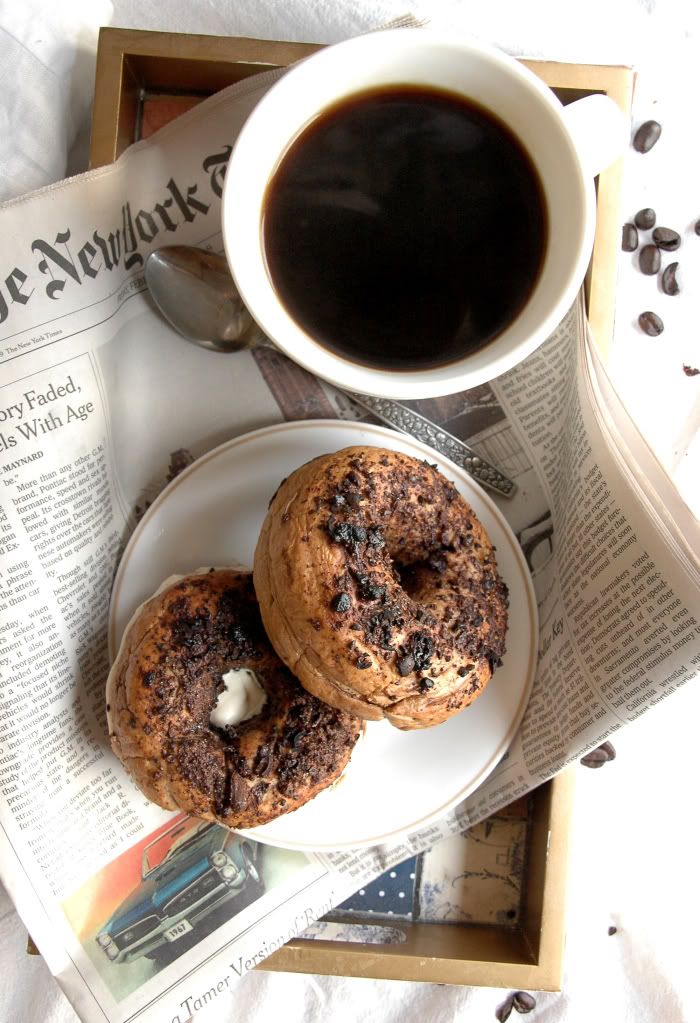 I have measured my life in coffee spoons.
This is the start of a new game, will you play with us? The critically acclaimed pastry artist, writer, designer, photographer--not to mention colleague and good friend--Christy from
Five Types of Sugar
and I will be doing a series of themed posts together every now and then on a chosen ingredient or cultural notion to compare their weight--a Melbourne v. Seattle thing. We begin the series with coffee, so stay here to read my ramblings on Coffee culture in Seattle, and visit Christy to find out about Melbourne. We will post a recipe we've each created around the theme--obviously Walter, what else do we do?--as well as "relevant" interview questions because we are both so incredibly hot, young, interesting, and talented in this industry and can't imagine why you would want to waste your time doing anything other than getting to know us through our thoughts on war, the inner psyche, chaos, how tightly to tie your shoes, drugs, love, sex, the fine pastry arts, camera lenses, the meaning of the universe and human existence, fish species, and of course, for today--coffee.
There's one more catch to the Salty-Sweet series; a prize for our favorite (though randomly chosen) reader who comments on BOTH of our sites. We have noticed that people are more prone to visit when there is something in it for them. Shame on you. But, as we wish to be the most popular girls in school, we're going to bribe you because we love you. This episode the winner will receive coffee both from Seattle and Melbourne, so if you would like a chance to win our coffee, you must visit us both. And do not despair over where in the world you are or what your customs regulations may be. Salty is a customs agent slayer. on y va.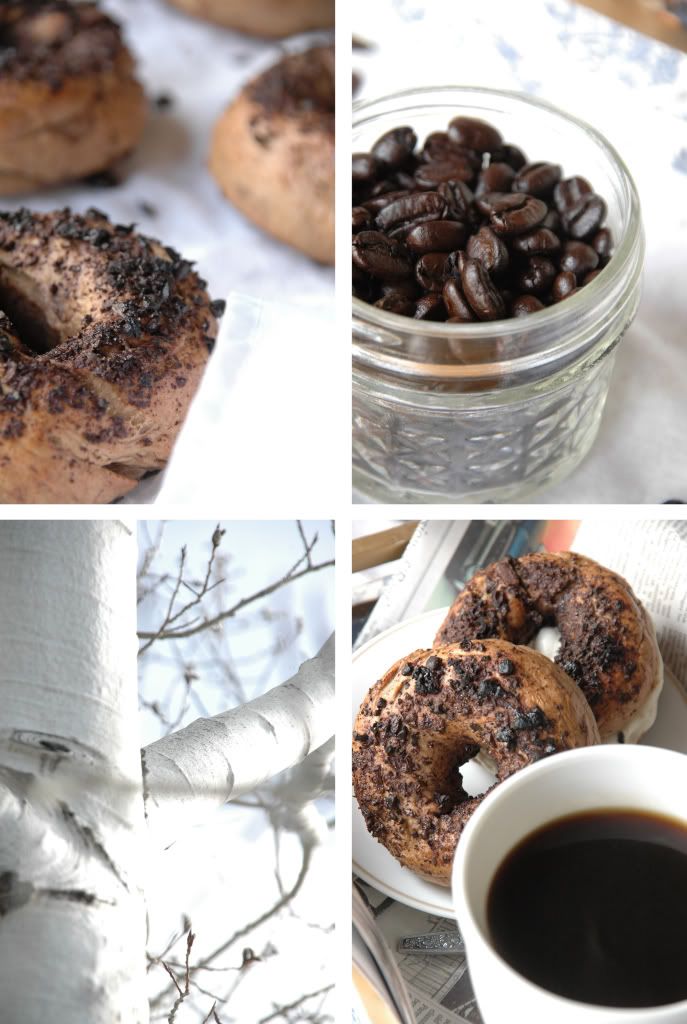 Coffee. It's a drug. Everybody's doing it, come on, give in to peer pressure and take a hit. I've had coffee in every city i have been in. Undoubtedly there is never enough space in a montage...however, i do not make it a point to take a coffee wherever I go, but rather it just happens to occur. You see, being born in Seattle, i view coffee obsession as my birth right, and am lured to the taste by my genetic disposition. Naaaaaaahhhhhh, that's a load of bull. It took me a
long
time to like coffee, and even now i still do not like the classic American drip very much, and would you beleive that if offered the choice i would take milky black tea first?
whaaat?
Didn't all Americans dump that shit in the Boston Harbor?
But that is not to say that i do not like coffee, on the contrary. I love a petite espresso after a meal, and i love a foamy cappuccino or steamy late on a cold day or an early morning, and i would never say no to Starbucks anywhere,
ever
.
The Seattle "stereotype" of nature-y musical coffee guzzlers does not exist because of Starbucks, Tully's, Seattle's Best, or any of the others, but because Seattleites, along with (evidently) the vast majority of the world enjoy the taste, and that is why the world has grown up into this coffee culture, it is not a fad, it is part of our culture,
our
world coffee culture.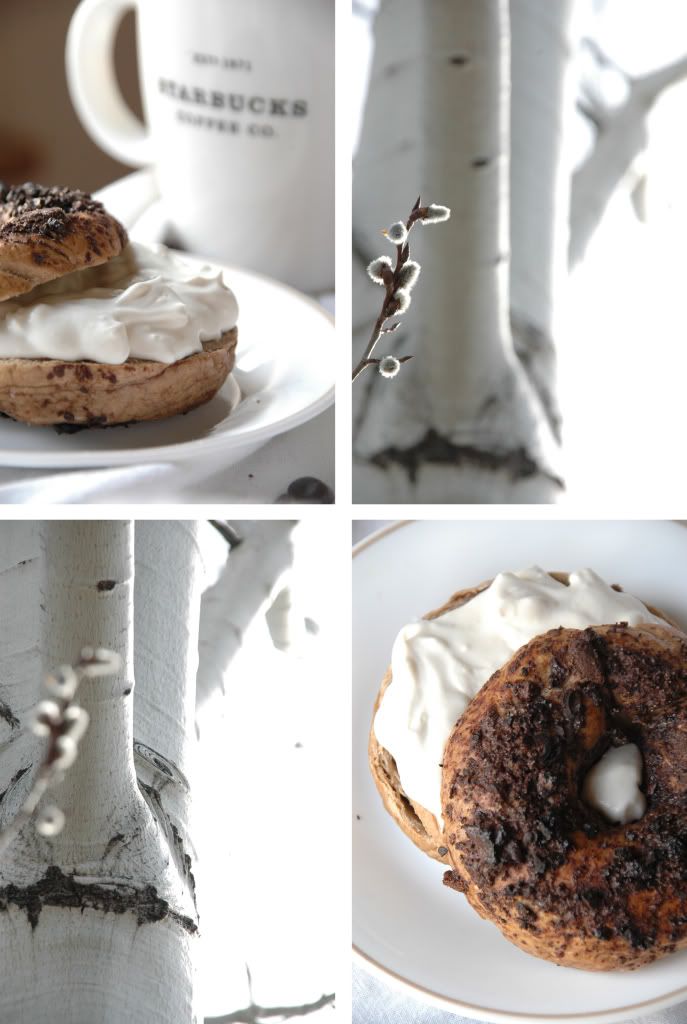 And now for the best part, being interviewed (psychoanalyzed) by the Sweet~

Sweet: * What is your favourite coffee drink?
Salty: My favOrite (hehe) used to be an Americana because they were the cheapest and I could make them quite easily on my own. But now Starbucks has the Espresso Truffle Late, and well, I now have romantic dreams about it.
* How did you two meet? (you and that cup, not you and a certain gentleman friend)
Hmmm...oh you are referring to salted codfish, well, i don't really know. Cod just swim around in big groups you see. swim swim swim. and i wasn't fishing or anything, but somehow this one decided he wanted to start following me. so I salted him in order to take him with me on long voyages like the Portuguese. Now everywhere i go i smell like salted fish. Anyways,
what was the question?
coffee-- I grew up in a small town across the Puget Sound from Seattle, that is, you have to take the ferry boat for 30 minutes to get anywhere, and it undoubtedly, like Seattle, is a coffee town. My parents are addicts. I remember a very large framed poster print on the wall of our kitchen of the Starbucks Siren (Mermaid logo) drinking an espresso, so I have always associated coffee as being feminine and kind of mysterious, and well, she is a beautiful mermaid so, drinking coffee is sexy! Haha, no, but since my parents drank drip like psychopathic fiends—or rather zombie robots in the morning who b-line to the coffee pot, I first thought it a "grown up drink." So, as a child with Starbucks parents, I got to know hot chocolate very well first.

* When are you coming to Melbourne to have a cup of coffee with me?
I am coming to Melbourne on the ____ day of ____ month. But ____ happens to be rather soon! In seven weeks I will be graduating from University and then pretending to start a life. So anything, anything after those next seven weeks is possible. The world will be my toaster (coffee pot? You know Mallory makes both) to go anywhere, providing funds and a desire are there. And Melbourne is very high on the list. So is Tibet and the Azores. And Jamaica. For dancing purposes, naturally. And back to Portugal of course, the Algarve this time. And there's that one place that i know you are waiting for me to say, that one place that i feel like i've already lived in, and that i visit every time i turn my head toward a window, but
in
real
reality, it's just in my head. maybe someday.
* If there was a 'Mallory' coffee drink available, what would it be? And why would people go crazy for it?
A Mallory would have to have fruit in it. But fruity coffee... im not sure how that works out. My favorite fruit flavor is mango, so maybe a late...hey wait I know, i've had coffee with cachaca, so why not a real Mallory coffee drink—cold coffee with port wine! Let's do it.
*Do you make your own, or buy your coffee?
A Starbucks (and everywhere else) grande late with tax comes out to about $4.10, so I try not to buy them very often as I am a very poor college student with debt up to my eyeballs. Usually I will reserve them as treats if I am meeting someone for a cup or if someone is taking me out for one. Other than that, I buy a $7.50 bag of ground Vienna roast.
* Brewed or Espresso?
Espresso. I don't even own a brewer. I own one of the cute little espresso pots that you put on the stove. And after living in Europe I started to really just enjoy the small little espresso after meals. And actually, i love crunching on chocolate covered coffee beans. A lot. I'm a biter.
* Dark or fair? (milk or no milk, that is. No, not your preference of the male species)
You know this is the second sexually suggestive question so far in this interview, coffee is the new oyster. or maybe we're just dorks. But you see reader, Christy has an incredibly good looking boyfriend imported from Portland (yeah whatever I can say that, psshhh think I forgot those pizza tossing photos?) where as I do not have a boyfriend here despite what everyone says, and therefore am a sad wandering loner, isn't that how it goes? But let's assume the question is meant to imply that she is collecting Melbourne men so that she can entice me to alter the answer to question number three by luring me in with their sexy Australian accents. But now coffee, white or black...hmmm. neither. So it's clear;
what I want
is a shade in the middle.
* Which of the following do you do when you are alone in a coffeeshop? Read/surf the net, or
conspicuously
gawk at good looking people?
I would try to stare at good looking people, but probably just end up staring out the window or at a wall with a crazy look on my face. I also love to eavesdrop into other peoples' conversations.
* Which do you prefer, coffee from Seattle, or from halfway around the world?
If given the choice I will always run, I mean fly, away.

* How many cups do you drink on an average day?
I usually don't drink too many, couple times a week, and always in the evening and not the morning, i'm an obsessive runner, and coffee more than anything seems to really dehydrate me. So it's a love-hate relation, but a treat after a long run.
* How would you characterize a good cup of coffee? (Tall, dark, warm and Italian, for example….hmmm….)
Before becoming a pastry chef/fashion designer/photographer/writer, Christy took her college degree in Psychology and now practices clinical study on the side.
Anyways.
I would characterize it as--
sweet milky English breakfast tea.. Ahk!
Christy's answers to my fantastic interview questions are over at her house. So get your butt over there.
After you finish with the rest of MY stuff here of course.
Alright. Now for a coffee recipe. What to make for this...our one rule was tiramisu is off limits. I always think of Kahlua when contemplating coffee desserts, so something with Kahlua cream. hmmm. What do people eat with coffee...coffee cake, boring. Biscotti? nahh that's the easy way out. Cookies? no that's for the tea party. Well, bagels--yes! Bagels! True coffee and a bagels seems more the New York thing to do, but Seattleites love Bagels, and i have never made them before, so chocolate coffee bagels with Kahlua cream? Hell yeah! The quint essential Salty Sweet bagel. So let's get our coffee on.
This baking day landed on the first day of Spring according to the calendar. Now spring in Spokane follows the kindergarten jibe of
in like a lion out like a lamb
, and the weather lately has been snow flurries, spotted with clear red skies, followed by door busting wind storms and flash hail falls that then end with bird chirpings. Charming. But when the Vernal Equinox arrives, Spokane listens, and for the first time since November, the mercury rose above 50F (10C). What does that mean? It means everyone is outside playing! But i have bagels to bake. But i could not pass up the first day of spring, i may be a dummy but i would never go as far as missing that--you see it's our tribal triumph over having lasted the winter.
In your face nature! We won!
So in between baking and photographing, my very good buddy E (who from now on will be known as Nixon, though i'm not exactly sure why) and I decided the best thing to do was climb trees and skip river stones. Next we will be playing Pooh Sticks. So, happy spring to you all, a beautiful season of possibility. Tree climbing makes you very thirsty though, so naturally the place to go, is, Starbucks
.
Coffee in any season.
Now eat a bagel
.


Mocha Bagels with Kahlua Cream


Ingredients: (for 12 bagels) 6-8 cups flour ~ 1 tsp yeast ~ 3 tsps finely chopped coffee beans ~ 2 cups lukewarm water ~ 1 tbsp salt ~ 3 tbsp sugar ~ 4 oz shaved or finely chopped chocolate ~ 1 tbsp oil

method: 1) dissolve yeast in water, and then add the sugar, salt, oil, and 6 cups of the flour and mix. after a couple minutes add the chocolate, coffee, and eventually the rest of the flour if needed. 2) once the dough pulls away from the sides of the mixer bowl, use a dough hook attachment for 12 minutes. i kneed by hand because i'm cool like that. The dough will be incredibly tough and will make you very sore, but kneed it until
smooth. 3) grease a bowl, roll it around, and cover and proof for 1.5 hours (try a warm oven) 4) turn oven to 500F and start a pot of water to boil. cut up dough and roll out into strips (should make 12) and wrap around your hands to form the right size, dip your fingers in water to seal the ends of the dough overlapping by at least an inch. massage it until it is all the same thickness and seems are nearly invisible. 5) by the time you're done with them all the first ones you shaped will be ready to boil. 6) boil bagels until they float, remove, drain, and lay on a parchment covered baking sheet and sprinkle with chopped coffee beans and chocolate 7) bake for 15 minutes with a baking pot of water on the lower rack of the oven.

For the Kahlua cream, all it is is whipped cream, whipped cream cheese, sugar, and Kahlua mixed together.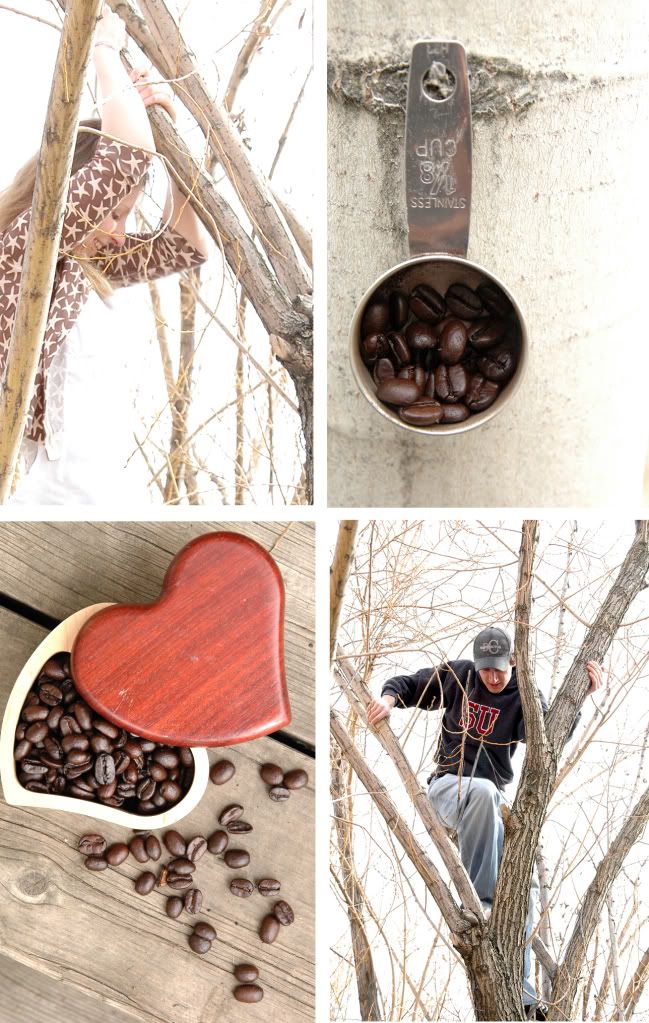 Coffee, like most things that make me smile--such as colonial architectural patterns-- is a mark of human connectivity. i mean look, beneath all the different names, foams, sugars, creams, cups, syrups, and labels, it turns out that we all grind the same bean. And for that, even if only slightly, you can feel at home for.
Remember we both have coffee (don't worry, not a bagel or a tart) for one of you dear readers--so if you would like to receive a fun package both from me and from
Christy
, then leave a comment to both of us, and we'll close our eyes and pick a winner. It's a card game of luck, are you lucky? And if we have not frightened you away, we look forward to seeing you again next month. for the next one. on the next theme.
a bientot
(ps. as if i couldn't get anything more into this post, climbing tree made me think about wood, the exceptionally difficult theme for this month's Click food photography contest. above is my entry)